By Individual Trader, seekingalpha.com
The rally out of the post-Brexit meltdown has been impressive. This market doesn't look like it is slowing down.
Sentiment could actually drop as the market trades flat. Waiting for a pullback is risky here in my opinion.
The market as I write has rallied up to 2,165 today, meaning we are now up over 6% since we bottomed after the Brexit vote on June 27th. I knew when we would get "extra" momentum after the S&P broke out to new highs just a few days ago. Bears had to cover their shorts, which resulted in added fuel to the fire. You have to remember the breakout only happened last Friday. Furthermore, the market has tagged on a further 40 handles since the breakout has occurred. Many traders are now trying to chase, so this article will discuss where we are and how to get a better entry (if indeed we get a pullback) if you wait to get long this steam train.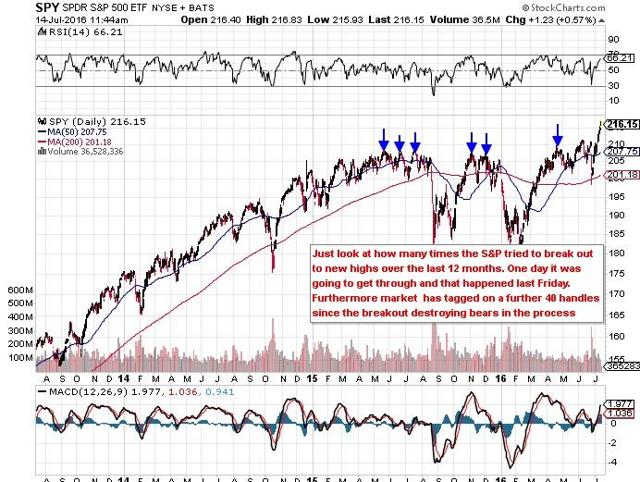 If we look at the same chart but analyze the last intermediate cycle (from the 10th of February to the 27th of June), we can see we only got two daily cycles and the first daily cycle low (blue arrow in chart) didn't take place until mid-May. Furthermore, the S&P 500 (NYSEARCA:SPY) was highly overbought on the RSI indicator in March of this year, but still managed to go higher until we got a temporary top in April. The same could be happening in this intermediate cycle, so don't expect a sharp pullback in the near term as this daily cycle may have much further to run.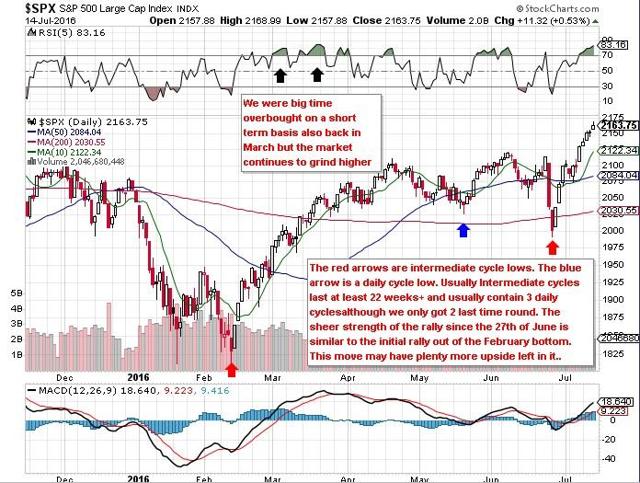 Source: Individualtrader.net
Furthermore, although sentiment is at the high end of its range, we can see from the chart below that sentiment can stay high for a considerable period of time. When we finally printed our daily cycle low back in May, the price of the stock market was much higher than the March highs when we were overbought. The black arrow (on the chart below) is usually what sentiment drops to when we print a daily cycle low. The problem is that the May lows were a nice bit higher than the March highs, meaning that anyone who was waiting for a pullback probably never pulled the trigger.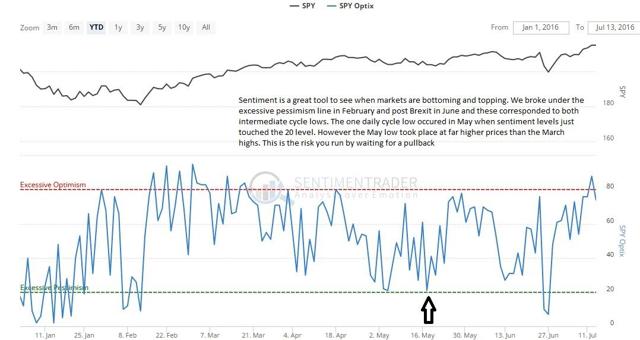 Source: Sentimentrader.com
Therefore in hindsight, the best time to enter the stock market this year (if you were late to the party in February) was when the market tanked post Brexit and pierced through 2,000. What does the person do now if he or she is still not invested? My technicals state that being in (even after tagging on almost 170 points over the last 3 weeks) is the place to be. If you have to weather a daily cycle low in the near term, so be it. Dips will be bought in this market for a while yet.
To sum up, I'm going to be adding a few good dividend and growth stocks to the Elevation Portfolio over the next several weeks when I see value. In order to ensure that income is brought in every month, it's imperative that they are not correlated and all don't have similar valuations. You can follow along by pressing the "Follow" button above.
Disclosure: I/we have no positions in any stocks mentioned, and no plans to initiate any positions within the next 72 hours.